"We wouldn't go back to that other life for anything….
The freedom we have is simply amazing. And while we still deal with everyday life, there is serenity all around us. It's a slower pace, a simpler life, and we are much more deeply connected and happy."
— Howard Payne, Full-Time RVer and RV Freedom Now Story Contributor
If you are dreaming of a Full-Time RV Life
It's time to stop dreaming and take action!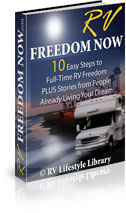 You Can Live Your Dream NOW…
"Being out on the open road, spending the night under the stars, being able to enjoy nature everyday, Has been a dream come true!"
"We waited a long time to be able to experience traveling in our Rv full time, everyday is a brand new adventure!"
Experience your own new adventures, create lasting memories, explore a whole new world. You will not regret it. Start your own freedom now!